Meme from the flist (namely
honeypuffed
and
gimmick_game
):
* Anyone who looks at this entry has to post this meme and their current wallpaper on their LiveJournal.
* Explain in five sentences why you're using that wallpaper!
* Don't change your wallpaper before doing this! The point is to see what you had on!

My wallpaper! *swoons* It was a present from
tangiblewhimsy
and I LOVE HER, OKAY? With spazzing and hearts and stuff.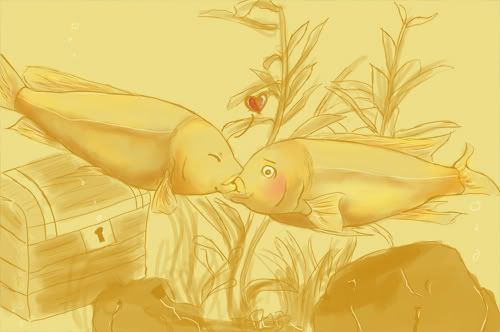 Now make it desktop sized (which Aya DID, because she is too good to me) and add the icons from my
previous desktop
and you'd have my desktop from before Taiyou had his brain injury. I
knew
I should have named him Mycroft.
Also! Also!
honooko
wrote me fic! It is
glorious
. It is a beautiful, beautiful Sho/Ohno/Nino fic. It's so al;sdkjfl;skjdf HI, I LOVE YOU. It makes me a little speechless with pure joy.
AND!
je_fqfest
started posting the fics today! The one
written for ME
was already posted. It's Ohmiya. It's Letters From Iwo Jima Ohmiya. I am so happy. It's masturbation and memories and porn and it is lovely. But I do recommend checking out the entire fest. It is going to be EPIC. Also: It's porn.
je_ficgames
is going to start posting soon, so be on the look out for that!
Finally: New Arashi album. I have the rip. I'm really loving it so far. It's kinda a new direction for them, though. More dance and Euro-beat than concert-hype-up. I like it, though. Oh, Junface. Nino, make the jazz hands and I'll be happy. Aiba, wtf? :D :D :D Oh-chan, ♥ as always. Sho! T-A-B-Oh,Oh is right.
I dropped my laptop by accident and now he is retarded. I hope Ed can fix him. For now, I am borrowing his computer. BUT OTHER THAN THAT, GOOD THINGS.